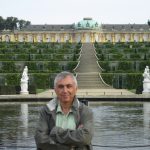 Mohamed Sultan, Ph.D
Professor and Chair
mohamed.sultan*wmich.edu
ResearchGate:
https://www.researchgate.net/profile/Mohamed_Sultan10
Research Interests:
I apply an interdisciplinary research approach that takes advantage of available tools and disciplines (e.g., remote sensing, GIS, geochemistry, geochronology, hydrology, surface runoff and groundwater flow modeling, field geology, etc.) to address a wide range of complex geological and environmental problems. Ongoing projects address the potential influences of natural processes, global change, and regional human activities on the water and carbon cycles and ecosystems. For example, I am developing and applying an integrated systems approach to assess monitor, and model the recent and future impacts of changes in landscape and land cover associated with major agricultural development projects in Saharan Africa. Additional ongoing/forthcoming projects include assessment of alternative renewable groundwater resources in arid and semi-arid areas, modeling storage variability in artificial lakes (Lake Nasser), and evaluation of the water quality and potential pollution sources for urban and semi-urban aquifers in the Central Valley of Costa Rica. Geoinformatics is an area that is becoming of increasing importance to geologists. I am involved in the development of an interdisciplinary GIS database (TETHYS) as a tool for studying plate collision responses in the Tethyan belt. It is predicated on a widely-perceived need for a 'synergistic' approach to developing and testing plate collision models. The database will include digitized geological maps, structural indicators, geodetic data, remote sensing data, sample-based major and trace element abundances, radiometric ages, isotopic abundances for ophiolites, ultra-high pressure metamorphic rocks, collision-related magmatic bodies, and seismic data pertaining to mantle and crustal fabric and structure. Projects that were recently conducted include evaluation of the origin and extent of groundwater resources, hydrologic impacts of major engineering projects (e.g., Tushka Canal, SW Egypt), mapping and predicting vector-borne diseases, assessment of encroachment of urbanization on agricultural lands, identification of sources of lead in particulates and non-methane volatile organic compounds in ambient air, and evaluation of seismic risks. To expand our research activities in the general area of environmental sciences, we are in the process of establishing a direct downlink and processing system for remote sensing data. Specifically, we are acquiring real-time access to the Advanced Very High-Resolution Radiometer (AVHRR) L-band sensor data transmitted by the National Oceanic and Atmospheric Administration (NOAA) satellites, as well as the Orbview-2 satellite that carries the Sea-viewing Wide Field-of-view Sensor (SeaWiFS) instrument in real time. This added capability will facilitate new environmental research and application activities in aquatic optics, forest fire monitoring, and atmospheric sciences. Research activities that were previously funded encompass Quaternary research and Tectonics.
Curriculum vitae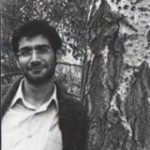 Mustafa Kemal Emil
Graduate Candidate, Geosciences (PhD)
mustafakemal.emil*wmich.edu
ResearchGate:
https://www.researchgate.net/profile/Mustafa_Emil
Research Interests:
Currently, I am interested in research providing new evidences for nature and timing of wet climatic periods of the Arabian Peninsula using a multidisciplinary approach including remote sensing, isotope geochemistry, and geochronology. My second research interest has been monitoring ground deformation caused by anthropogenic and natural factors using radar interferometric time series analysis and GPS observations. For example, I apply similar techniques to investigate controlling factors and extent of ground deformation in Qatar suffering from high rates of fluid extraction and rapid urban development. Additionally, I have been involved in research investigating natural groundwater discharge in Western Desert of Egypt using multisensor multitemporal satellite data. In the past few years, I also contributed to various other projects including: (1) age, origin, and sustainability of fossil aquifers in Saudi Arabia (2) landslide hazard susceptibility mapping in Jazan area in Saudi Arabia, (3) assessment of subsidence and associated sea encroachment in Nile Delta of Egypt, and (4) monitoring mass movement along coastal bluffs of Michigan. I also like to develop desktop and web applications for geospatial data visualization and analysis.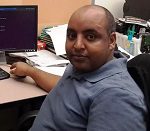 Esayas Gebrekidan Gebremichael
Graduate Candidate, Geosciences (PhD)
esayasgebrekid.gebremichael*wmich.edu
ResearchGate:
https://www.researchgate.net/profile/Esayas_Gebremichael
Research Interests:
Using interdisciplinary research approaches (geology, geophysics, remote sensing, GIS, hydrology and hydrogeology, geomorphology, climate change, coastal studies etc.) to investigate local and regional land deformation processes, the possible controlling factors and the implications of these processes in coastal environments when coupled with the climate change induced sea level rise. Satellite radar remote sensing in conjunction with high-resolution spatial datasets is principally used to quantify land deformation rates. Current ongoing projects include: Evaluation subsidence in the Nile Delta using Radar Interferometry (funded by the National Science Foundation) and Assessment of the spatial and temporal subsidence (sinkholes) patterns and controlling factors in Qatar (funded by the Ministry of Municipality and Urban Planning (MMUP) of the state of Qatar.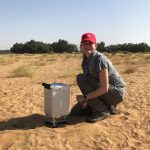 Hannah Pankratz
Graduate Candidate, Geosciences (PhD)
hannah.g.pankratz*wmich.edu
ResearchGate:
https://www.researchgate.net/profile/Hannah_Pankratz
Research Interests:
Currently, I am working on land deformation associated with salt domes along the southern Red Sea coastline, Saudi Arabia. Using remote sensing and geophysical techniques I am creating non-invasive criteria to identify other surface or near-surface salt domes as well as better understand the driving structural causes behind them, this project is currently funded by the Saudi Geological Survey.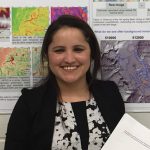 Sita Karki
Graduate Student, Geosciences (PhD)
sita.karki*wmich.edu
ResearchGate:
https://www.researchgate.net/profile/Sita_Karki2
Research Interests:
I am interested in the application of remote sensing for geohazards and development of early warning systems. For my doctoral research, I am working on detecting debris flow using radar data in Jazan Province of Saudi Arabia. In addition to this, I am also working on detecting algal bloom using MODIS data in the coastal areas of Charlotte County Florida.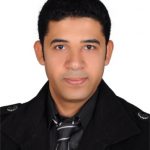 Karem Fathy Abdelmohsen
Graduate Candidate, Geosciences (PhD)
karem.abdelmohsen@wmich.edu
ResearchGate:
https://www.researchgate.net/profile/Karem_Abdelmohsen2
Research Interests:
My current research activities and interests focus on the application of integrated geophysical and remote sensing tools for groundwater potential assessment, exploration, and sustainable utilization in arid regions. I am studying groundwater use in arid regions that has increased in recent decades due to population growth world-wide.  I am involved in  processing field and satellite-based geophysical data over the Western Desert of Egypt to understand the following:
(1)  distribution of Nubian Sandstone Aquifer System (NSAS)
(2)  temporal change in groundwater storage, and
(3)  role of basement structures (e.g., uplifts, shear systems) in facilitating or impeding groundwater flow
Hossein Sahour
Graduate Student, Geosciences (PhD)
hossein.sahour@wmich.edu
ResearchGate:
https://www.researchgate.net/profile/Hossein_Sahour
Research Interests:
I am interested in applications of remote sensing, GIS, statistical models and neural network to address environmental problems. Currently, I am applying GRACE satellite data and land surface models to assess the temporal variations in terrestrial water storage in Michigan's glacial aquifers and factors controlling the variations.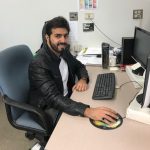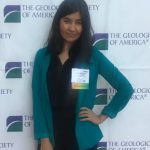 Guzelay Sataer
Graduate Student, Geosciences (PhD)
guzhaliayi.sataer@wmich.edu
Research Interests:
I am interested in assessing slope stability and landslide events along the Lake Michigan shoreline, using radar images and high-resolution DEM data.